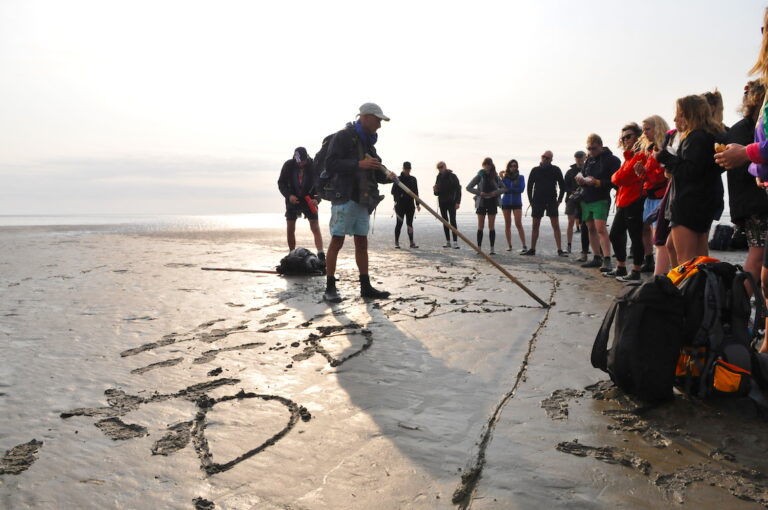 In this blog, we talk about mud flat walking in general – and why the Netherlands is definitely the best place for you to experience this!
The Netherlands is known for its beautiful scenery and picturesque landscapes, but did you know that the country also has some of the best places to walk on mud flats (something we Dutch call wadlopen)?
Walking along the mudflats of the Netherlands is not everyone's cup of tea. What is it about this landscape that attracts people and makes them come back for more? In short: It's a place where the natural and the man-made meet and where you can experience nature in its raw state, rather untouched by civilization…
A mudflat walk – It's more than just walking
Mudwalking is a great way to explore the fascinating world under the water. It gives you the opportunity to see what's living on these seabeds without disturbing anything. The walks are also a great way to improve your knowledge about marine life and conditions.
Mudwalks are led by professional guides with knowledge of the environment and who can share interesting insights on what they see during their walk. The walks are also conducted in areas where there is no risk of stepping on something that could cause harm or otherwise alter the habitat.
Apart from providing a good photo opportunity, walking by the water opens up your eyes to new perspectives on life – whether you're alone or with others!
Did you know? Mudflat walking was an ancient form of natural therapy, practiced by ancient civilizations in China, North Africa, Greece and Ireland, among others. 
Where is best to go wadlopen? The Wadden Islands, of course.
The Wadden Islands are a group of islands – an archipelago – in the North Sea, off the coast of Denmark, Germany, and the Netherlands. They include some 9,500 islands that stretch from the Dutch provinces of Friesland and Groningen to the German state of Schleswig-Holstein. The name derives from Old English "wædd" meaning "marshy land." The Wadden Islands have been inhabited for at least 12,000 years with some archeologists estimating human habitation to be 20,000 years old.
Waddenzee National Park of the Netherlands
The Waddenzee National Park is home to a unique ecosystem with over 360 species of animals and plants, which is why it's been recognized as a UNESCO World Heritage Site. It is also one of the most important and frequently visited national parks in Europe. 
The national park covers an area of approximately 1,500 square kilometers that includes the islands of Texel, Vlieland, Ameland, Schiermonnikoog, Terschelling and Rottumeroog. With a population of around 12,000 people, Texel is the largest of these Wadden islands and has been inhabited since the 13th century. It's possible to go wadlopen to, or around these Dutch islands, but our favorite is Schiermonnikoog!
Schiermonnikoog
The island of Schiermonnikoog has been voted as one of the best islands in Europe! Tourists travel from all around the world to this island for its national park and natural beauty. Exploring the island by foot or bike leads you to many beautiful viewpoints, offering a glimpse of the abundant birdlife and nature. You can enjoy the wide beaches, a dip in the North Sea, or any number of other activities – once you recover from your mudwalk, of course!  
Have we told you enough about this unique place and activity?
Do you want to learn more about mud flat walking (wadlopen), or plan a trip with us to our favorite island of Schiermonnikoog? Get in touch!