As you prepare to embark on a mudwalk trip – to go wadlopen – you need to make sure you have the right gear. We've compiled a list of 16 must-haves for your next trip across the mudflats of the Dutch Wadden Sea.
At a minmum, you should be in good physical shape to be able to walk 10-15km (max 25km) 
Tight surf shoes with a thick sole on the bottom (see for an example these from the Decathlon), or tight-fitting AllStar type shoes + a plastic bag to put them in afterwards! 
Shorts or tracksuit bottoms/leggings (jeans are definitely not recommended!)
Warm sweater
Windproof jacket 
Wool socks
Hat
Scarf
Gloves
Towel 
Snacks/drinks
Sunglasses  
Sunscreen
Backpack with dry clothes and anything you need if you are overnighting on the island (which you have to carry yourself!)
Your camera (+ camera accessories and waterproof bag)
And a can-do attitude with a smile, of course!
Keep reading below for more info!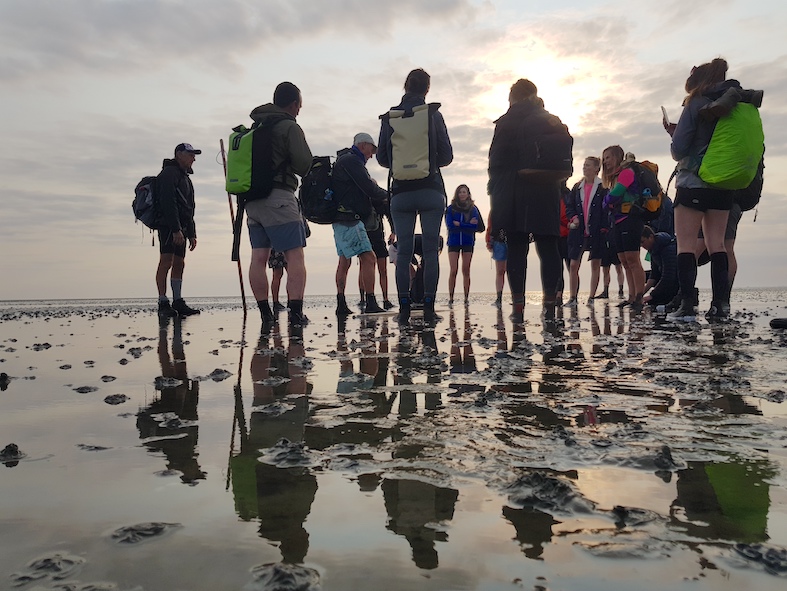 Now for some bakground to the list…
First of all, you need to be in good physical health, since you need to be able to walk approximately 5 hours without many stops. If you are overweight, have bad knees, are younger than 12, older than 65, and have no insurance, then you cannot join a mudwalk.
The most important are your shoes! No flipflops, boots or high heels 😉! Some parts of the mud are deep and will pull off any shoes when they are not tight. This is especially so, when the walk starts at the land and not from a boat. What is ideal? All Star shoes or look a likes, with long socks or tight high surf shoes (preferable with a thicker bottom to protect against the oyster and other shells).
You will likely get wet when we have to cross a trench/kind of a (tidal) river. And depending on the season and temperatures and wind, the water can be cold. For bottoms, you should wear a swim shorts or a legging, also  taking into consideration that your legs may rub against one another as they get dirty and wet. For the upper part, wearing layers is great. Bring warm, breathable clothes made from wool & cotton, and  a wind/rain jacket is essential.
Not forget to wear a high-factor sunscreen and consider bringing/wearing a hat against the sun.
If you go for the weekend and overnight on the island, you have to carry with you everything you need in that bag. So pack light, and bring enough water (1 liter) and sandwiches and powerbars/cholcolate to snack on along the way.
And if we are lucky to find fresh oysters, we can enjoy some right there on the spot. If you have an oyster knife and know how to open them, please take this along with you. I will provide lemon and tabasco!
In your backpack with your dry clothes, don't forget your toiletry bag. Consider taking a sleeping mask and earplugs!
In terms of food on the island, there is a Spar supermarket right next to the Hotel van der Werff and many restaurants/bars on the island.
Last but not least, you are responsible for your own transportation to/from the start & end point, so be sure to plan accordingly. There is paid parking available.
Any questions? Feel free to reach out to us!